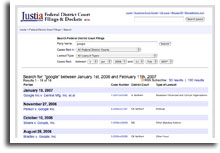 Justia just released a beta version of their Federal District Court Filings & Docket search engine. Want to know why you should check it out?
Free. It won't cost you a dime, or a nickel or even a penny. It is free. No registration required. Nothing. It's really free! But that's not all…
Fast. It is fast. Almost too fast, if that is even possible. Just like when Google returns relevant search results in fractions of a second that leaves you wondering whether it really searched through each and every web page in its database. Justia's docket search is that fast. What about all the allegedly frivolous litigation clogging the courtrooms? Surely, it must take a few seconds to scan through all those records, right? Nope.
Fun. Who knew lawsuits could be so much fun? Look up which companies are suing and which ones have been sued. Before, it would have cost you some pocket change to run the same searches on PACER. Now that the cost of searching is free, you can try out all those searches that previously weren't worth paying for (or that you couldn't bill to a client).
Search by Type. Let's say you're interested in certain types of lawsuits, such as torts, real property or civil rights. Well, you can select from a list of 105 different types of lawsuits to view. How's that for customization?
RSS Feeds. Don't want to return to the Justia site to run the same search each morning. Then, subscribe to an RSS feed. For example, you can grab a feed of all federal lawsuits involving Google.