I've never seen (or never noticed) this warning before. However, last month, I spotted this peeling sticker on the side of a gasoline pump.
Reformulated Gasoline…may cause a very small percentage of vehicles…to have fuel system leaks which may cause vehicle fires.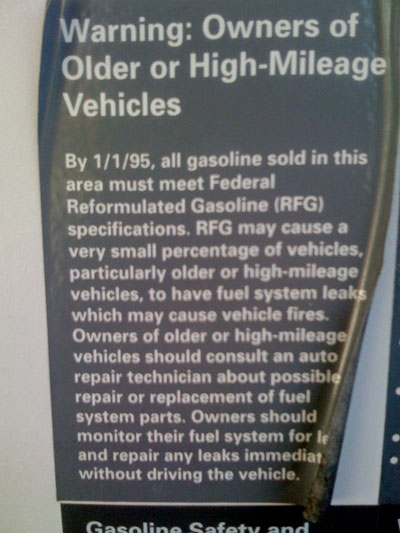 What the heck? Assuming these warning signs have been up since 1995, when reformulated gasoline rolled out in the San Francisco Bay Area, I find it odd that I haven't see this warning elsewhere. Need to make a mental note the next time I visit a different service station whether their gasoline pumps also carry the same warning. However, I find this warning to be vague and unhelpful because it doesn't define (1) a very small percentage, (2) older vehicles, and (3) high-mileage vehicles. How small is a very small percentage? 5%? 1%? Less than 1%? Considering the number of cars out on the road, a very small percentage could still mean a lot of cars. Secondly, what is an older car? Cars from the 1980s? Cars from the 1960s? Cars from the 1940s? Finally, what is a high-mileage vehicle? Over 100,000 miles? Over 250,000 miles? Seriously, the warning label doesn't give the driver enough information to determine whether their vehicle is affected by reformulated gasoline.