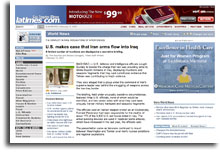 The Los Angeles Times reported that "U.S. defense and intelligence officials sought Sunday to bolster the charge that Iran was providing arms to Shiite Muslim militants in Iraq…."
Yes, that's one way to report the news. The headline that they should have used was "US and Iran Join Forces in Iraq." After all, we're in Iraq backing the Shiites, and Iran is in Iraq backing the Shiites. Curious how things work out, no?
What must be absolutely infuriating to the White House is that even though they treat Iranian President Mahmoud Ahmadinejad as a persona non grata, we end up backing the same faction. What do you tell the guy, even if you're not on speaking terms? Stop backing our Shiites?
The truth is that there is no easy way to get out of this one. If we tell the Iranians to stop arming the Shiites (which, by the way, we are doing), we look like hypocrites. And, at this stage, we clearly can't switch our support to the "other" side and back the Sunnis, which we had spent countless millions to depose. So, out of pride, we'll continue to back the Shiites until the mission is accomplished (again) and we can finally hand over Iraq to the Iranians. The End.