Wilson's Lessee v. Campbell, 1 Dall. 126, 1 U.S. 126 (Pa. 1785)
Wilson's Lessee versus Campbell.
Ejectment.—Yeates, for the defendant, when called upon at the trial to confess Lease, Entry and Ouster, confessed Lease, Entry, and Ouster for part only of the tenements laid in the declaration.
This was opposed by Bradford, who contended, that the defendant having taken general defence, when he first pleaded, and entered into the common rule, he must now confess Lease, Entry and Ouster as to the whole; but the plaintiff can recover no more than he proves the defendant to be in possession of. 1 Att. Prac. 317.
By the Court: The defendant must in this case, confess Lease, Entry, and Ouster for the whole tenements laid in the declaration.*
Citation: Wilson's Lessee v. Campbell, 1 Dall. 126, 1 U.S. 126 (Pa. 1785)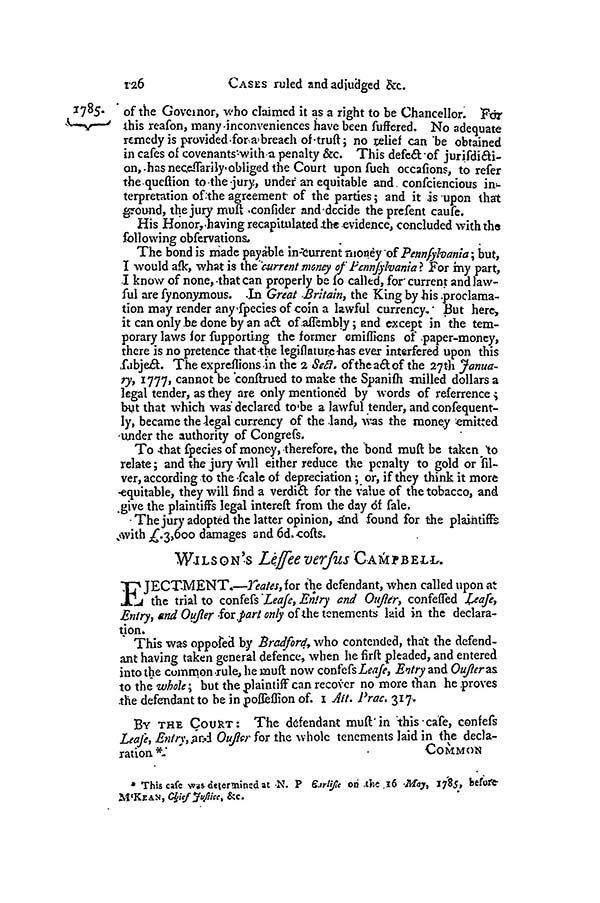 Last modified: September 11, 2013