Woods v. Courter, 1 Dall. 141 (C. P. Phila. 1785)
Common Pleas, Philadelphia County.
September Term, 1785.
Woods versus Courter, et. al.
The register of a ship, or, in other words, an affidavit made by one of the defendants (who, however, was not in Court, the return, with respect to him, being non est inventus) stating that the ship belonged jointly to him and other persons, being copied from the books of the naval officers and certified under his seal of office, was allowed, after argument, to be read in evidence against the defendants.
And Shippen, President, mentioned the case of the protest of a master of a vessel, which had been allowed to be evidence in his favor. See ant. 6.
The defendants counsel took a bill of exceptions to the opinion of the Court, which, however, was never prosecuted, as the plaintiff eventually suffered a nonsuit.
Lewis for the plaintiff. Sergeant for the defendant.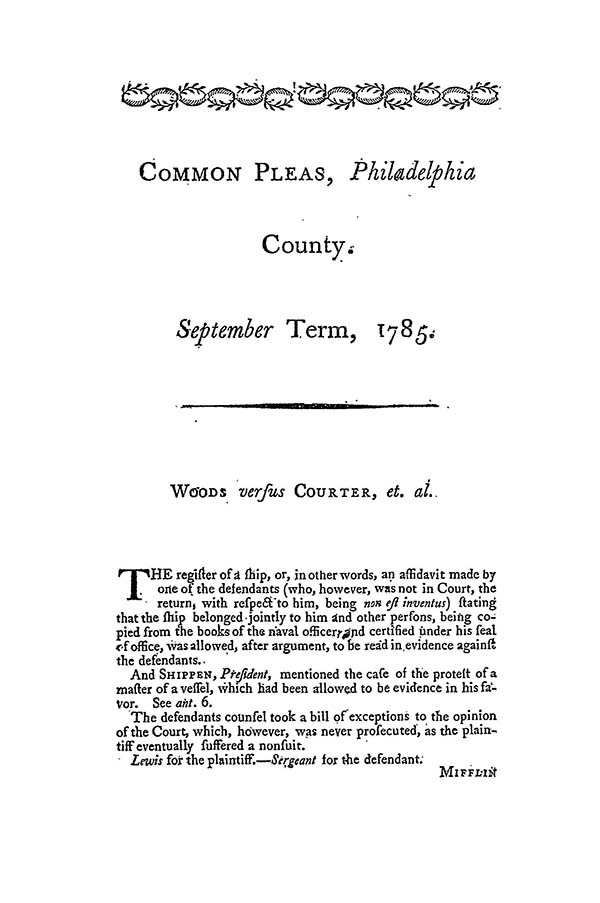 Citation: Woods v. Courter, 1 Dall. 141, 1 U.S. 141 (C. P. Phila. 1785)
Last modified: March 4, 2014