Taylor v. Knox, 1 Dall. 158 (C. P. Phila. Cty. 1785) and Finlayson v. Knox, 1 Dall. 158 (C. P. Phila. Cty. 1785)
Common Pleas, Philadelphia County.
December Term, 1785.
Taylor versus Knox, et al.
Finlayson versus Knox, et al.
Foreign attachments.—In these cases rules had been obtained to shew cause of action, and why the attachments should not be quashed.
On the argument, the garnishee Henderson (who was also a copartner with the defendants) produced several witnesses, by whose testimony the following facts were established:—That David Knox came to Philadelphia in the spring of 1784; that he brought furniture with him, hired a dwelling house and store, and professed an intention "to lay his bones here." That he went to Virginia in February 1785, and sailed thence to England, in consequence of receiving intelligence of some misconduct of another partner, named Cowan, who resided there, and had never been in America. That during his absence, and at the time of laying the attachments, the copartner, now garnishee, continued in possession of the house in Philadelphia, with much the same establishment of servants &c. but after the attachments were laid, he broke up house-keeping. That David Knox was a single man, and it was not known, whether he had taken the oath of allegiance to this state, or not.
The plaintiffs to shew their cause of action, produced affidavits of accounts from their respective books sworn to before the Lord Mayor of London.
The question being argued by Ingersol and Rawle, in support of the motion, and by Lewis and Wilcocks against it, The President, at an adjourned sitting on the 15th of February 1786, delivered the opinion of the Court.
Shippen, President.—The first point to be decided, is, whether the foreign attachments ought not to be dissolved, on the proofs given of Knox's being an inhabitant of Pennsylvania, at the time they issued?
We would avoid laying down any general rules as to what will or will not, make a person an inhabitant within the attachment law, lest cases should hereafter happen which might come within those general rules, but were not in the contemplation of the Court in the particular case before them. We think, however, if any general rule was made, it would be reasonable, and very consonant to our laws and constitution, that the person's residence here, to make him
159
an inhabitant, should be so long as to give him the rights of citizenship—to wit, for twelve months. And we should have no hesitation in laying this down as a rule, if it were not for those cases of dispute which may arise between creditors on a domestic attachment, and creditors on foreign attachments, where it may frequently happen that the debtor's residence may be less than 12 months, and yet he may, and ought, to be an object of the domestic attachment law, so as to have his effects divided among all his creditors, and not swept away by the first creditor who takes out a foreign attachment.
*
But in cases where a stranger comes among us, and remains here for a short time, and then goes away under such circumstances, as not to make him an object of the domestic attachment, it will always have considerable weight with us, that he has not resided here for twelve months.
In Knox's case his residence here was only eight or nine months, the family he left behind him, does not appear to be of a kind to denote an unequivocal continuation of his residence, being probably no more than was sufficient for his partner Henderson's own accommodation as a single man.
The second question is, whether there has been such proof of a debt due, as is sufficient to shew a cause of action?
And here it will be proper to mention the reason and occasion of making the rules with regard to proofs necessary for holding to bail on writs of capias. When I came into this Court, I found a practice had lately taken place of requiring proofs of the debt, similar to those required by the statute of 12 G. 1. so as to disable absent plaintiffs from holding defendants to bail, for want of a positive affidavit before one of the judges of this Court of a subsisting debt. I considered this practice as not founded in law, and as tending to injure the credit of the country. That it was not founded in law I took to be clear, from the words of our act of Assembly, made shortly after the revolution, extending only such of the statute laws of England as had theretofore been in force in Pennsylvania. The act of 12 G. 1. was certainly not in force, nor ever practised under, before the revolution. But as the judges who had sat here before me, thought there was good reason to keep up a kind of reciprocity between England and us, upon this subject, and not being willing to relax the rule totally, it became necessary in order to preserve a uniformity of determination in the several judges of the Court, to settle another mode, so as to avoid extending an act of Parliament by their authority, which had not been extended by the Legislature, and yet not to give the inhabitants of that country the same easy method of proving their debts in England before the Lord Mayor, or other magistrate there, which had been practised previous to the revolution under their own acts of Parliament. A middle way was, therefore, struck out; and a signature of the party to some instrument of writing, or some letter, or acknowledgment 1 U.S. 158, 160 of the debt, was made necessary to be superadded to the usual probate made before the war. This rule, however, affects the inhabitants of other countries as well as England; and it may possibly be found necessary, at some future time, to make an alteration in it more conformable to the general law on those subjects.
But, as at the time of making the rule, we had no eye to any other kind of process, than writs of capias, and it was expressly confined to them, in favour of personal liberty, we do not think it should be extended to other cases, not then within our view. In cases of attachments, therefore, we think it safest, to follow the law as we find it in our books before the statute of 12 G. 1. And as it appears by the case in 8 Mod. 323, that an affidavit of a plaintiff, before a notary public in Holland, was deemed sufficient to hold the defendant to bail, we think the like affidavit in this case, should be sufficient for the same purpose.
Motion to dissolve the attachments discharged.
Citation: Taylor v. Knox, 1 Dall. 158, 1 U.S. 158 (C. P. Phila. Cty. 1785) and Finlayson v. Knox, 1 Dall. 158, 1 U.S. 158 (C. P. Phila. Cty. 1785)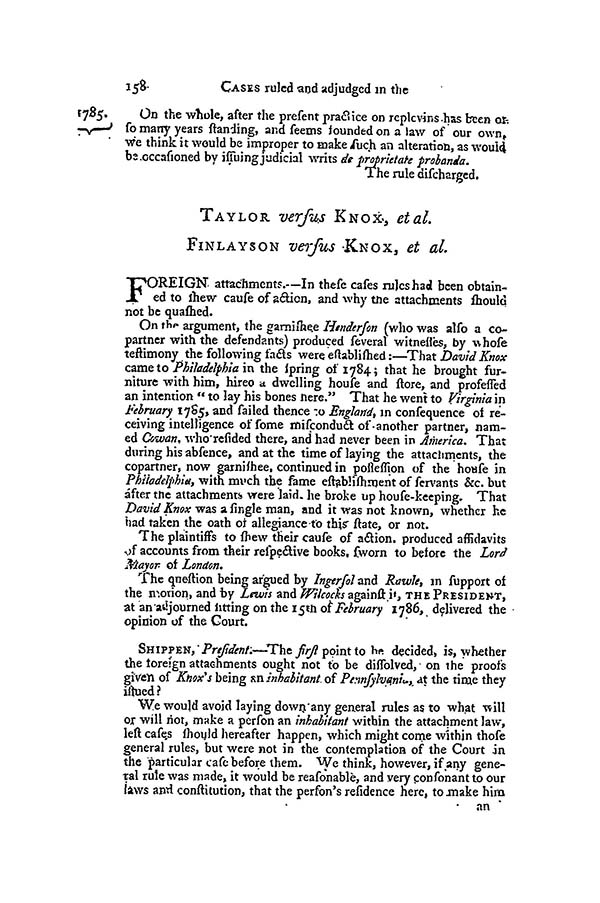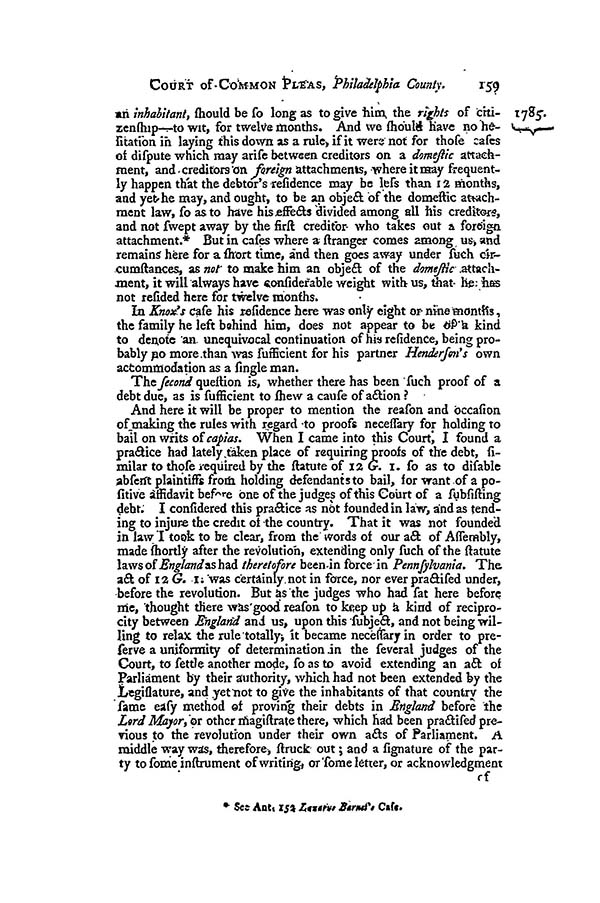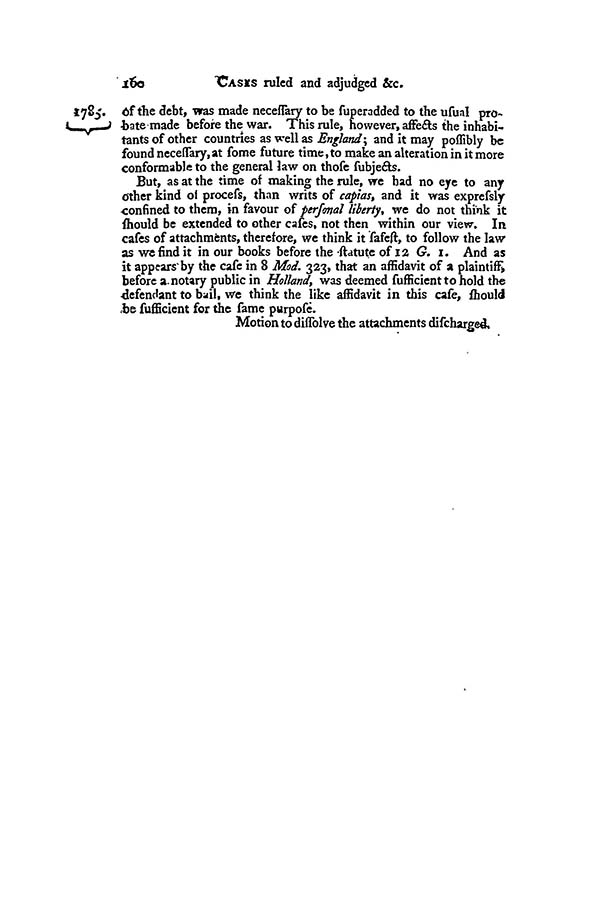 Last modified: December 5, 2014