Moore's Lessee v. Few, 1 Dall. 170 (Pa. 1786)
Supreme Court of Pennsylvania.
April Term, 1786.
Moore's Lessee versus Few.
This was an Ejectment for certain premises in the County of Philadelphia.
After solemn argument by Wilcocks and Rawle, for the plaintiff; and the Attorney General and Sergeant, for the defendant; THE CHIEF JUSTICE delivered the opinion of the Court, that the word transfer, being used among the disabilities to which Non-jurors are subjected by the act of Assembly, passed the 13th of June 1777, the testator John Hunt, under whose devise the plaintiff's title was made, being at the time of his death a Non-juror, was incapable of devising lands and tenements.
And consequently the defendants, claiming under the heir at law, had judgment.
Citation: Moore's Lessee v. Few, 1 Dall. 170, 1 U.S. 170 (Pa. 1786).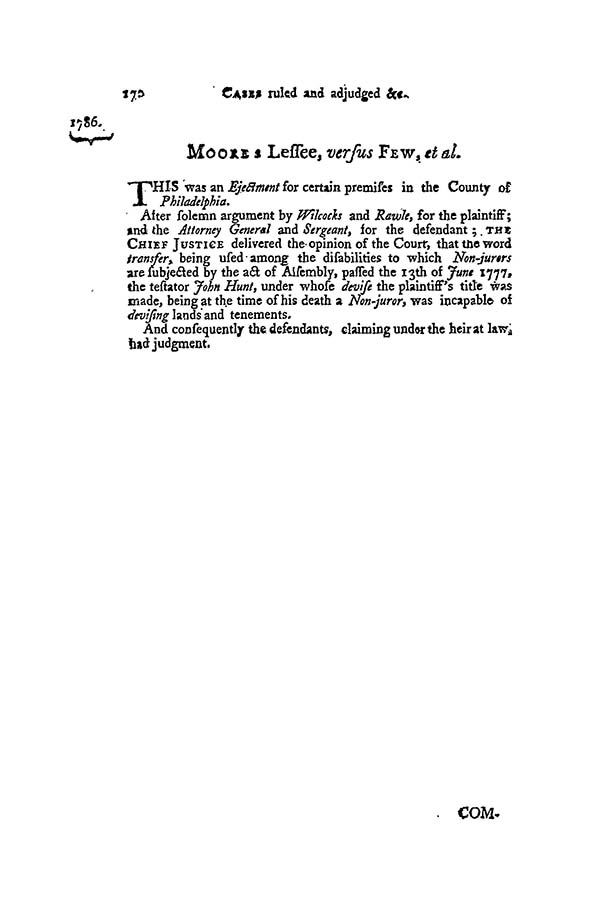 Last modified: July 16, 2014