Dutilh v. Ritchie, 1 Dall. 171 (C. P. Phila. Cty. 1786)
Court of Common Pleas, Philadelphia County
June Term, 1786
Dutilh versus Ritchie.
This was a Replevin for divers goods, wares &c. and property was pleaded in Andrew Clow, and others, assignees for the benefit of the defendant's creditors.
The facts were these:—The Defendant had bought certain goods, for which he gave a promissory note, that was afterwards indorsed to the plaintiff, who went (probably by desire of the Payee) to purchase goods from the defendant on the 8th of April 1785, about five o'clock in the afternoon. He told the Defendant, on entering his shop, that he came to take goods in payment of the note, and the defendant (whose attention was taken up, at the same time, by several other customers) handed him such articles as he pointed out, mentioning their respective prices. The Plaintiff marked those pieces which he approved of, and laid them on one side of the counter, 'till he thought he had chosen sufficient to answer the note, and then informing the defendant that he would go for a porter to remove them, he left the shop without receiving a bill of parcells, or stipulating a time of payment, or tendering the promissory note to the defendant. Immediately after the Plaintiff had left the shop, the defendant shut 1 U.S. 171, 172 it up, and called a meeting of his creditors; for whose benefit, the next morning, and before this Replevin was served, he executed an assignment of all his property.
It was held by THE COURT, that the property in the goods for which the Replevin issued, was not vested in the Plaintiff; and the Jury found a verdict accordingly for the Defendant.
Maylan for the Plaintiff.—Millegan and Rawle for the Defendant.
Citation: Dutilh v. Ritchie, 1 Dall. 171, 1 U.S. 171 (C. P. Phila. Cty. 1786).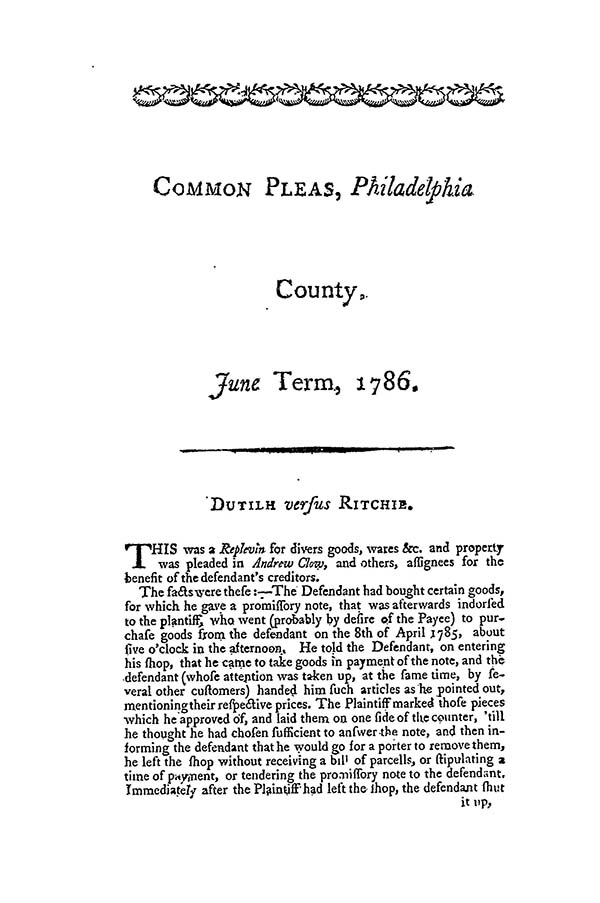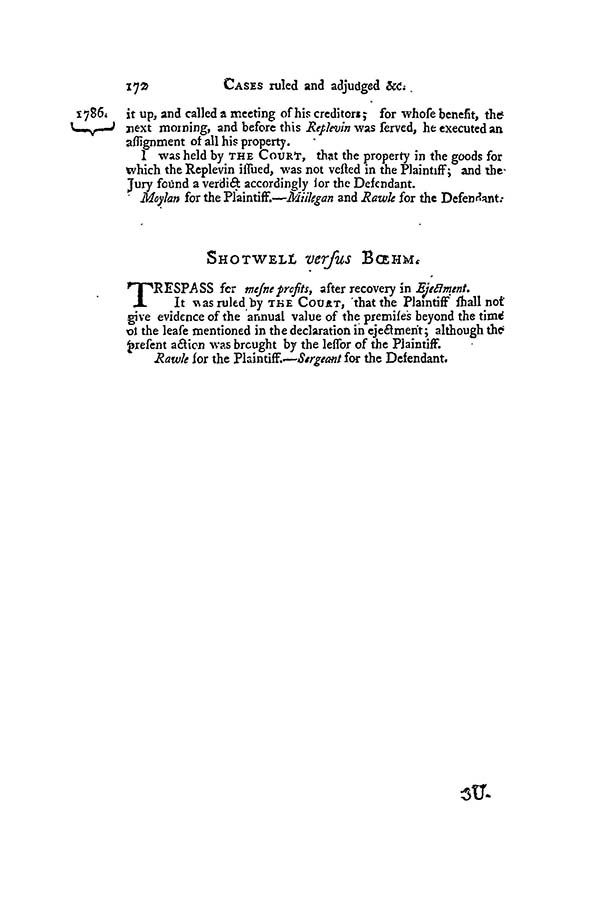 Last modified: July 16, 2014