Shoemaker v. Knorr, 1 Dall. 197 (C. P. Phila. Cty. 1787)
Common Pleas, Philadelphia County:
June Term, 1787
Shoemaker versus Knorr.
Judgment. Fi. Fa. returned, and Vend. Exp. to Dec. Term, 1786, returned by the Sheriff, "Proceedings staid by the Plaintiff." The Sheriff afterwards made sale of the premisses, and the Plaintiff took a precipe from his Attorney, for an Al. Vend. Exp. returnable to March Term 1787, but before the return day of the term, the sale had been made, although the precipe was not delivered, and no writ made out till after the term, when the Prothonotary, on the application of the Sheriff, issued an alias Vend. Exp. returnable to June Term.
It was now moved to alter the Teste and return, by the precipe; that is, to make the writ returnable at March instead of June Term.
Sergeant, the Defendant's Attorney on record, did not oppose the motion, but declared, that as his authority was determined by the Judgment, his consent could not be obligatory on his client.
The court, after some deliberation, granted leave to make the alteration moved for; resting, it seemed, upon the ground that the precipe furnished something to amend by.
Rawle for the Plaintiff.—Sergeant for the Defendant.
Citation: Shoemaker v. Knorr, 1 Dall. 197, 1 U.S. 197 (C. P. Phila. Cty. 1787).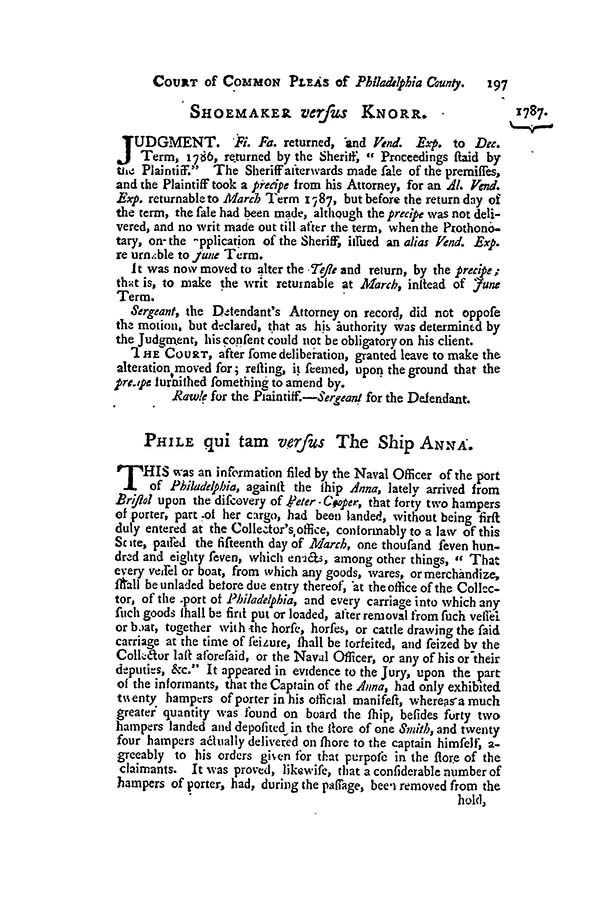 Last modified: August 5, 2014