Bethel v. Lloyd, 1 Dall. 2 (Pa. 1759) and Weston v. Stammers, 1 Dall. 2 (Pa. 1759)
Supreme Court of Pennsylvania
April Term, 1759.
Bethel versus Lloyd and others.
Partition. Plea nontenuit insimul, & c. Defendants permitted to give in Evidence to the Jury, that some of them were not Tenants of the Freehold * but only Tenants at Will.
Citation: Bethel v. Lloyd, 1 U.S. 2, 1 Dall. 2 (Pa. 1759)
The Lessee of Lewis and Mary Weston versus Thomas Stammers.
An exemplification of a will, made in England, and certified generally to have been proved, approved and registered, in the Year 1704, in the Prerogative Court of Canterbury, under the Seal of the said Prerogative Court, allowed, on Debate, to be read in Evidence to the Jury.
Same Cause.
Minutes of the Commissioners of property allowed to be given in Evidence.
Same Cause
Depositions take in a former Cause by Rule of Court with Content of Parties (in an inferior Court) in which the present Defendant was a Party, and where the present Title (it was said) came in Question, upon Debate, were ruled by the Court to be no Evidence in this Cause: Note. It did not appear that those Depositions were read in Evidence on the former Trial.
Citation: Weston v. Stammers, 1 U.S. 2, 1 Dall. 2 (Pa. 1759)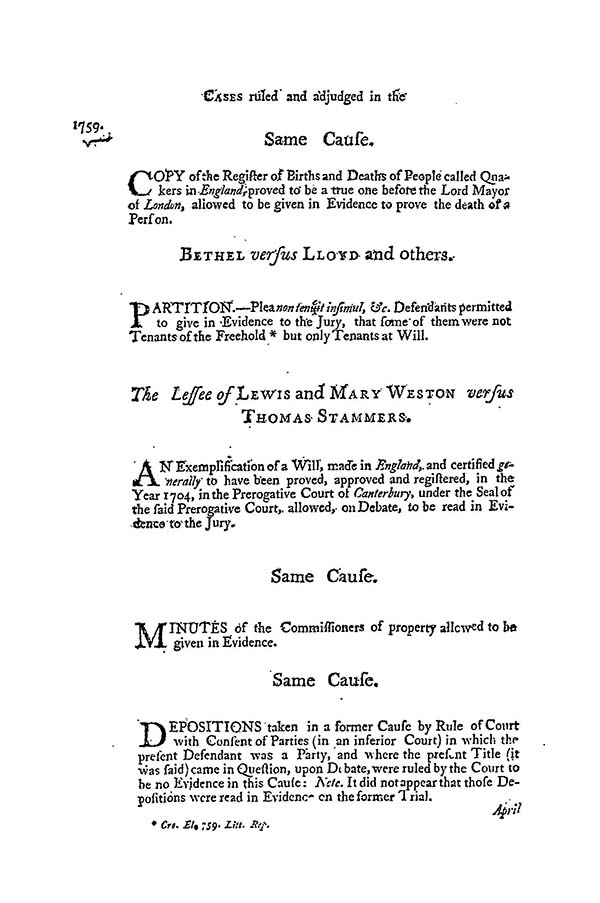 Last modified: December 5, 2014