Lessee of Albertson v. Robeson, 1 Dall. 9 (Pa. 1764); King v. Rapp, 1 Dall. 9 (Pa. 1764); and King v. Haas, 1 Dall. 9 (Pa. 1764)
Supreme Court of Pennsylvania
April Term, 1764.
Present William Coleman, Alexander Stedman, Justices
The Lessee of Albertson versus Robeson
Moved to admit a Witness to prove the Age of the Plaintiff, his Brother (about sixty Years old) from the hearsay of their Father and Mother. Opposed, and refuted by the Court.
The Votes of Assembly were admitted to prove the time of the notification of the Repeal of an Act of Assembly by the King and Council. But not answering the purpose fully, the Minutes of Council were sent for, and given in evidence without opposition.
N.B. The Defendant supported his Title under a Decree of a Court of Chancery established by Act of Assembly; the Decree was made two Months after the Act was repealed by the King and Council, but six Weeks before we had Notice of it.
The Court gave it in charge to the Jury, that the Act was not repealed, till Notification here; and the Jury were of the same opinion, by finding a Verdict for the Defendant.
Citation: Lessee of Albertson v. Robeson, 1 U.S. 9, 1 Dall. 9 (Pa. 1764)
The King versus Philip Henry Rapp.
Indictment for Misdemeanor, in marrying a Man to a Woman who had another Husband living.—Moved, on the Part of the Defendant, to put off the Trial on Affidavit of material Witnesses wanting, and that he had taken the proper steps to get them.—Opposed by the Attorney General, as being a criminal Case, and not within the Rules of civil Cases. But granted by the Court, the Defendant being a Clergyman, and his Living depending on his acquittal: but declared not to be a Precedent.*
Citation: King v. Rapp, 1 U.S. 9, 1 Dall. 9 (Pa. 1764)
The King versus Haas and others.
Moved on the Part of the Defendant to oblige the Attorney General to bring on the Trial, or discharge the Defendant. The Court said they would not force the Crown to bring on the
10
Trial, nor discharge the Defendant from Bail, without some appearance of oppression. *
Citation: King v. Haas, 1 U.S. 9, 1 Dall. 9 (Pa. 1764)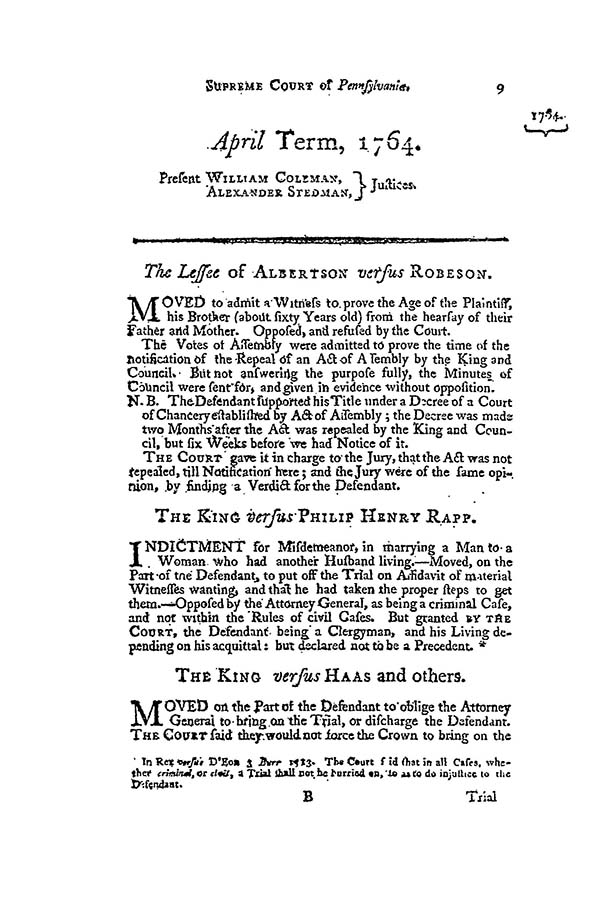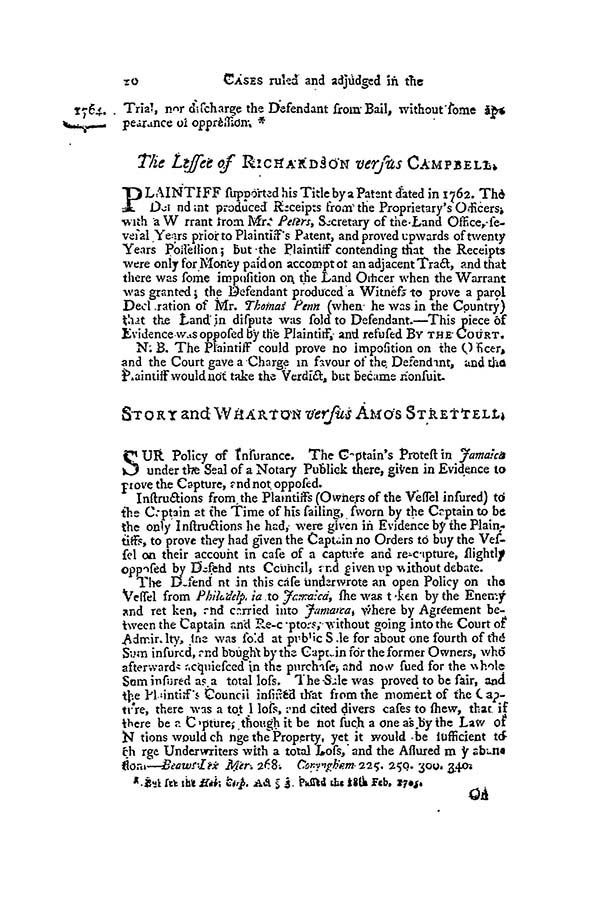 Last modified: December 5, 2014