McIntyre v. Ohio Elections Comm'n, 514 U.S. 334, 4 (1995)
Page:
Index
1
2
3
4
5
6
7
8
9
10
11
12
13
14
15
337
Cite as: 514 U. S. 334 (1995)
Opinion of the Court
I
On April 27, 1988, Margaret McIntyre distributed leaflets to persons attending a public meeting at the Blendon Middle School in Westerville, Ohio. At this meeting, the superintendent of schools planned to discuss an imminent referendum on a proposed school tax levy. The leaflets expressed Mrs. McIntyre's opposition to the levy.2 There is no suggestion that the text of her message was false, misleading, or libelous. She had composed and printed it on her home computer and had paid a professional printer to make additional copies. Some of the handbills identified her as the author; others merely purported to express the views of "CONCERNED PARENTS AND TAX PAYERS." Except for the help provided by her son and a friend, who placed some of the leaflets on car windshields in the school parking lot, Mrs. McIntyre acted independently.
2 The following is one of Mrs. McIntyre's leaflets, in its original typeface: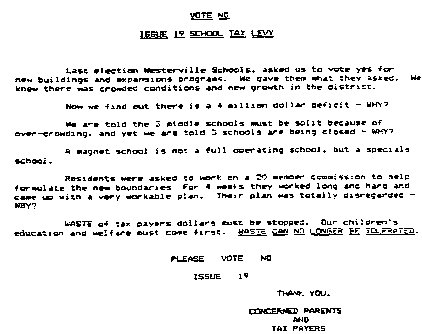 Page:
Index
1
2
3
4
5
6
7
8
9
10
11
12
13
14
15
Last modified: October 4, 2007